English: Photograph of Anaïs Nin as a teenager, circa 1920. (Photo credit: Wikipedia)
Anaïs Nin, it has been lately discovered via DNA testing, was
actually a man in drag
. His name was not
Angela Anaïs Juana Antolina Rosa Edelmira Nin y Culmell, but Fred Hinkleschnerfer.
No. April Fools, y'all.
Anaïs Nin
,
born in France on February 21, 1903, was as female as a cat in heat - and, judging by her writing, she frequently felt like one (not that there's anything wrong with that).
"We don't see things how they are, we see things the way we are."― Anaïs Nin
Because I reek at pronunciation
worse
than a college basketball player's lucky socks (I used to say "Aunty-Kay" for "antique" for years) I am linking the official pronunciation for others similarly challenged:
From
Inogolo.com
:
Phonetic Pronunciation: ah-nah-EES

Phonetic Pronunciation:

neen
Anaïs lived most of her life in the United States, so is considered an American author. (Yeah, USA!) But she is more truly a citizen of the world. Her composer father, Joaquin Nin, grew up in Spain but was born in and returned to Cuba. Her mother, Rosa Culmell y Vigaraud, a classically trained singer, was of Cuban, French, and Danish ancestry.
After her father deserted the family, Anaïs attended Catholic schools in the United States beginning in 1914, dropped out of school at sixteen, and worked as a model and a dancer.
Anaïs studied psychoanalysis with Otto Rank and briefly practiced as a lay therapist in New York.
Was There Ever A Woman More Sensual?
In 1931, Anaïs, then married to Hugo Guilar who was a banker and later a moviemaker, began a passionate affair with as-yet unpublished Henry Miller in Paris, as he worked on
Tropic of Cancer
.
And perhaps, a few (dozen) others. Which led to some amazing erotic literature.
"He was now in that state of fire that she loved. She wanted to be burnt." ― Anaïs Nin, Delta of Venus
via
Wikipedia
:
Faced with a desperate need for money, Nin, Miller and some of their friends began in the 1940s to write erotic and pornographic narratives for an anonymous "collector" for a dollar a page, somewhat as a joke.[15] (It is not clear whether Miller actually wrote these stories or merely allowed his name to be used.[16]) Nin considered the characters in her erotica to be extreme caricatures and never intended the work to be published, but changed her mind in the early 1970s and allowed them to be published as Delta of Venus[17][18] and Little Birds.

Nin was a friend, and in some cases lover, of many leading literary figures, including Henry Miller, John Steinbeck, Antonin Artaud, Edmund Wilson, Gore Vidal, James Agee, James Leo Herlihy, and Lawrence Durrell. Her passionate love affair and friendship with Miller strongly influenced her both as a woman and an author.
"When she closed her eyes she felt he had many hands, which touched her everywhere, and many mouths, which passed so swiftly over her, and with a wolflike sharpness, his teeth sank into her fleshiest parts. Naked now, he lay his full length over her. She enjoyed his weight on her, enjoyed being crushed under his body. She wanted him soldered to her, from mouth to feet. Shivers passed through her body."
― Anaïs Nin, Delta of Venus
for a wonderful tribute of Anaïs Nin photos and a recording of
her reading her own work, please play this clip
Later, Anaïs would act in her husband Hugo's experimental movies. She would also marry for a second time in 1947 (without troubling herself to get a divorce from husband Hugo), to an actor named Rupert Pole, her being 44 to his 28. (And why not?)
Anaïs became a very skilled performer at what she referred to as bicoastal trapeze.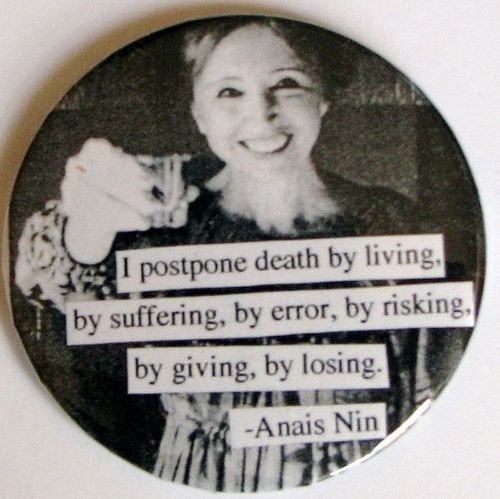 On the East Coast, she was Anaïs Guilar, with checkbooks and prescription bottles to match; in California she was Anaïs Pole. Although tax and legal issues compelled her to obtain an annulment of her marriage to Pole in 1966, they continued to live together as if married until her death of cancer in 1977. After Hugo Guilar died in 1985, Rupert Pole commissioned the unexpurgated versions of Anaïs's journals.
After her death, Anaïs was cremated and her ashes scattered in Mermaid Cove, Santa Monica, California. Later, husband Hugo's cremains were also scattered in Mermaid Cove - as arranged by Rupert Pole. I was unable to verify what happened to husband Pole after his death in 2006, but it's highly likely, according to Anaïs biographer Deirdre Bair, that his ashes joined theirs in a posthumous ménage à trois.
Are We Too Straitlaced for an Anaïs Nin Today?
The mere thought of a woman openly exploring her sensuality and sexuality throws most people (at least in the US) into a tizzy. I have been told about one of my novels that the idea that the heroine might fuck other men en route to discovering her enduring love for the hero... Well, it's simply
not done
, these days.
[In fact, my dear, on a blog one should say "the eff word" or politely blank out characters, such as "f--k other men".]
A fictional heroine can have sex, she can even have wildly graphic and kinky sex while tied up in a Red Room of Pain, but monogamy to the hero must be maintained throughout the book.
Some people just about rolled into a ball and died over Beyoncé's 2013 SuperBowl performance, or the "wardrobe malfunction" of Janet Jackon at the same event in 2004.
Nipples! OMG!!
(Never mind that all women
and men
each have a pair of their own.)
So I wonder, even though today her writings are widely respected, her nuggets of wisdom are quoted everywhere, if we, as a society, would accept or reject a woman who practiced the scandalous lifestyle of Anaïs Nin?
Like Rodney Dangerfield, Anaïs couldn't get any respect.
In the 1940's and 50's, the (almost entirely male) literary society was happy to get Anaïs's input - and to thrust theirs upon her (take that any way you like), but
publish
her? Consider her work as important as Miller's or Steinbeck's?
Being discounted as an artist
could
make a person angry and bitter. Below, Anaïs discusses anger as related to the artist.
Her diaries - the edited versions - first became widely published in 1966; the erotic novels such as Delta of Venus (1977) and Little Birds (1979) posthumously.
Reading or hearing her words, Anaïs does not seem to be an ordinary creature, but apparently, she too had her dry spells and household chores.
"Ordinary life does not interest me. I seek only the high moments. I am in accord with the surrealists, searching for the marvelous. I want to be a writer who reminds others that these moments exist; I want to prove that there is infinite space, infinite meaning, infinite dimension. But I am not always in what I call a state of grace. I have days of illuminations and fevers. I have days when the music in my head stops. Then I mend socks, prune trees, can fruits, polish furniture. But while I am doing this I feel I am not living."― Anaïs Nin,
The Diary of Anaïs Nin, Vol. 1: 1931-1934
Somehow, if we are writers, we must not only seek the high moments, but accept that moments of drought, when we are
not
in "a state of grace," when all we are fit to do is mend socks and polish furniture, happen to everyone. Even to Anaïs Nin.
I love so much of the writing and poetry of Anaïs Nin, but my
favorite
quote, which I have framed on my bedroom wall, is
Risk
:
And then the day came,
when the risk
to remain tight
in a bud
was more painful
than the risk
it took
to blossom.
Past Sluts of the Month:
Future Slut of the Month Candidates:
Mae West
Joan of Kent
Cleopatra
Sandra Fluke
Morgan le Fey
Aspasia
Madonna
Liz Taylor
Dorothy Parker
Kassandra of Troy
Tullia d'Aragona
Marie Antoinette
Lillie Langtry
Anne Boleyn
Eleanor Roosevelt
Rhiannon
Shelley Winters
Mary, Queen of Scots
"Klondike Kate" Rockwell
Catherine de Medici
Lucrezia Borgia
Umrao Jaan
Sarah Bernhardt
Eleanor of Aquitaine
Theodora (wife of Emperor Justinian of the Byzantine Empire)
Jeanne d'Arc
Margaret Sanger
Hwang Jin-i
Coco Chanel
Isadora Duncan
Sappho
Joan of Kent
Dorothy Dandridge
Catherine the Great
the "Unsinkable" Molly Brown
Eva Perón
Susan B. Anthony
Natalie Wood
Diana, Princess of Wales
Hillary Rodham Clinton
Mata Hari
Lady Gaga
Malala Yousafzai
Who's your favorite slut?
Vote for one on this list, or name another slut to be added to it.
What do you think of Anaïs Nin and her work?
Do you have a favorite Anaïs quote?