Whenever I am stuck in my own writing, I turn to reading. Or when I am eating, or TCOB in the bathroom, or poolside, or...
Last few months, I have been stuck a lot.
Septic Zombie - A Short Story
- Aquila Robinson (horror, children's)
I can honestly say that this short story (17 pages) is the best zombie story written by a seven year old I have ever read. I might even go so far as to say it is the best zombie story I have ever read, by an author of ANY age (not being a big zombie fan here).
When Aquila Robinson and her friend Naomi find a magical ring at the bottom of a stony creek, strange thing begin to happen. The sound of shuffling feet emerges from the woods, followed closely by a low moaning, "brraaaiiinnsss," that sends the girls running and begins an adventure that could only come from the mind of a seven year old author.

SEPTIC ZOMBIE is the first story written by homeschooled seven year old, Aquila Robinson (the real Aquila). With the help of her father (bestselling author Jeremy Robinson), Aquila has written, art directed, formatted and released this book, which she dictated to her father. Every word is hers, though she did work with an editor (mostly to fix Dad's typos).
When
I
was seven years old, I was dependent upon my blankie to protect me from monsters, not charging in with my imagination to rescue myself. This story blends horror, fantasy, friendship, and ingenuity in a way that many adult authors (including me) would envy.
The Darkest Surrender
- Gena Showalter(fantasy/paranormal romance)
The cover sucked me in, with the butterfly-ish tattoo, as an impulse buy. Besides I've been meaning to read some of Ms. Showalter's books for a long time.
This is number eight of an ongoing series of thirteen, and that's one of the hardest challenges as an author. Draw in the reader who simply picked up this book,
first
, while not boring those who've been following all along.
She didn't quite manage it for me. Despite a very convoluted first third or so of the book, I was very confused. Too many characters, too much backstory, and yet I still didn't understand this Universe or its rules or what the point was to the Harpy Games. I liked the hero, Strider, much more than the heroine. Until well into the book, I thought Kaia was an unlikeable brat.
That said, by the middle of the book I was rooting for Kaia to succeed, and by the end I was very invested in Kaia and Strider's romance and challenges. I loved the Alaska references, and the sisterly support of the other Harpies for Kaia.
Lesson learned: Showalter is a masterful writer, but I won't impulse buy any of her other books unless I know I'm picking up a standalone or the first one in a series.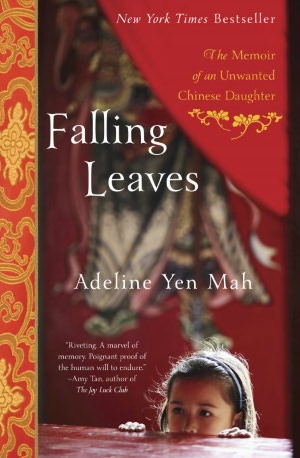 Falling Leaves
- Adeline Yen Mah (memoir)
The cover picture here, says it all - a shy little girl left on the edges, peeking in. In 1937 Shanghai, Adeline's birth resulted in her mother's death. You may have heard that the Chinese are not real "big" on girl children anyway, and Adeline (Jun-ling) was the fifth child, second daughter.
I found the book fascinating - the look at pre-Communist China, at Grand Aunt who founded the Shanghai Women's Bank in 1924, at the interweaving of Chinese and British culture, at the intimate view of the Communist takeover. The Chinese characters and their literal translations (Yuan Mu Qiu Yu - Climbing a Tree to Seek for Fish) are wonderful. Treated badly by her elegant Eurasian stepmother (shades of Cinderella), emotionally abandoned by her father, Adeline is still determined to succeed, and she does. She received a medical degree in the UK, and later came to America where she became a citizen and an anesthesiologist, still with ties to both mainland China and to Hong Kong.
She is honest about the mistakes she makes; accepting the job her father thinks she should have, instead of the one she wants; marrying a man who turns out the be abusive. It is always easy in hindsight to see what the "right" choice should have been; so hard to escape childhood conditioning and habits of obedience. At times the tone is a bit whiny and self-indulgent. Yet in the end, Adeline does rescue herself, and her siblings are not (all) the monsters one might expect from their upbringing.
Dancing With Danger
- Laura Sheehan (romantic thriller)
Full disclosure - Laura is a fellow member of my RWA chapter (LARA) and a really nice person, plus she's going be here for an interview shortly. So it would be hard to pan her book, even if I hated it.
Luckily, I thought it was an amazing debut. Lily is a fiercely independent young woman determined to make a go of a dancing career, which at the moment, after suffering an injury, means a group of hobbled together jobs. Children's dance teacher. Barista. And yes, pole dancer, none of which jobs her conservative politician father would approve.
Her path crosses that of an LAPD rookie officer, and as their romance heats up, so does the angst of her secret admirer turned stalker. His attacks inspire Marc to take Lily (and cat) into his condo - and bed.
I loved that Marc is super-protective of Lily, yet she herself is strong and self-sufficient. Given the circumstances, the speed of their romance was believable, and the sex scenes are
very
steamy. There's excellent use of humor throughout, as well.
The only detraction was that in the end, I felt there were a few too many loose ends wrapped up neatly for everyone. For example, Marc's parents who have been estranged for years now have a HEA tied up in a bow. It felt a little too pat; simply having them move in that direction would've been enough for me, likewise the reconciliation between Lily and her father. All in all though, a very satisfying book, and the view inside the mind of a dancer and a dancer's life was awesome.
Automagically
- Sommer Marsden (paranormal erotic romance)
I didn't realize, going into it, that this was a novella (68 pages) or I would have jumped in a long time ago. And I am not a fan of this cover, just saying.
This was a delightfully fun, spicy romp. Very playful, very sexy. Who can hate a contemporary witch who, post-breakup, uses a simple "bang-yourself-happy-again spell" on a new hot guy? Espcially when her sisters made her do it, really. And she doesn't mean to hurt the guy's heart, just get in a mutually satisfying sexcapade (or several) and then wipe it out of his memory. No harm, no foul, right?
I liked Evie, the heroine, and like her, totally lusted after Caleb, the hero. Lots of humor, sprinkled in - which to my way of thinking, makes
every
story that much better.
Devil's Kiss
- Zoe Archer (paranormal historical romance)
While I love historical romance, IMO this barely qualifies. There simply aren't many details that pin down the period - some fancy houses and of course, the clothing, the hero's an Earl... So if you're somebody who doesn't
want
those nit-picky details, you'll be happier. If you are a history nerd like me, you may be disappointed they're missing.
I loved gypsy Zora, who is feisty and highly intelligent; I thought Earl Whit and his greedy friends to be a little on the mentally slow side. The (few) sex scenes are hot, yet...I didn't find the initial consummation to make much sense - fighting for Whit's immortal soul and the bad guys are chasing us, but we're tired so let's stop for a 24 hour sex break. I did like Livia the ghost, and in the end, I liked them as a couple. I will definitely read more of Zoe's work, because she is an excellent writer, but... there was just something missing for me.
Inside Heat: Mustangs Baseball (Volume 1)
- Roz Lee (erotic romance)
Megan is a pediatric nurse who knows nothing about baseball, but is determined to score an autograph from baseball pitching ace Jeff Holder for a young patient.
This is only the beginning of the scoring, because Jeff's identical twin Jason is also a star catcher. They live together, in a very fancy - and very private estate, and
both
are interested in Megan as a lover, whenever the team is playing at home. Talking about taking one for the team!
If baseball and sex are among your favorite sports, you will LOVE this book. Smokin' hot menage, and more than that, a true romance. In the end, Megan realizes that while she loves both men, she's only IN love with one of them. But does he love her back? And what about the other twin, the one she's not in love with - but who may be in love with her? Will this trio end with a pair of winners, or three losers? Will either/both men put their careers on the line? It was not just the hot sex, but the emotional exploration that I found so compelling. LOVED this book; can't wait for the sequel.
Little Black Dress
- Susan McBride (women's fiction with a splash of paranormal)
Two sisters and a daughter - or is it a niece? - and a magic dress. We have a mother, Evie, suffering a stroke, her daughter Toni coming home to care for her, and a missing aunt, Anna. It turns out that a certain magical black dress is at the root of all mysteries - and solutions.
When you don the dress, it not only fits perfectly and in a flattering manner, regardless of your size and shape (which in and of itself is pure magic) but it gives you a glimpse of the future. Once you've glimpsed the future, you can't simply proceed along the path as planned.
The books flips from Toni's (Antonia's) viewpoint to Evie's in flashback, done very skillfully. Romances are broken - or begun, based upon what the dress has revealed to its wearer. It's a moving look at a not-entirely-whole, not-entirely-broken family dynamic, full of secrets, dysfunction, and love. I really enjoyed it and recommend it to anyone exploring sister-sister or mother-daughter dynamics.
Marriage Made on Paper
- Maisey Yates (contemporary romance)
Okay, I'm prejudiced. I've met Maisey,
she's done an interview here on Writing in Flow
, and she's an amazing person, separate and apart from her formidable writing talent.
In this book, we have struggling PR agency owner Lily Ford, who agrees to take on internal resort developer Gage Forrester. Since this is a romance, we know that she's gonna take him on in more ways that one.
Lily is very resistant to love - and men, having seen her mother throw her life away upon boyfriend after boyfriend. Gage has already "done" the family thing, having acted as a guardian to his baby sister since he was twenty-five years old, so why would he want a wife or family?
The erotic tension between the two is hot from the get-go.
Business concerns and a need to protect Gage's sister lead the two announcing a fake engagement, but on a business trip to Thailand, the sun, sand, and sea make it impossible for them to keep their distance.
What I love: the crackling dialogue leaps off the pages. Maisey writes steamy sex scenes (and I like those too), but what is fantastic is the way she creates plausible backstories for her characters that both explain why they don't just jump into bed together, AND why their HEA is also a resolution of those characters' pain. She gets a tremendous amount of story into a work that's less than 200 pages; I am not sure if I am jealous or have a mad girl-crush.
Pleasure
- Eric Jerome Dickey (erotica)
I
so
wanted to love this book. Erotica, from a male author? Thought it would be an interesting POV, but then he goes and writes it from the POV of a female character.
Okay, fine. Still on board. Surprisingly, he gets most (if not all) of the sensations right. Another set of identical twins, or as the character dubs them, identical sins. Hot menage sex, hot F/F sex, more hot menage sex. There was also the interesting look at black life in Atlanta among the people who've emigrated from the Caribbean: the protagonist, Nia Simone, and her mother are from Trinidad, and they still have a house there; the twins are from Barbados; one twin's wife has an islands connection.
I read this on my Kindle, and there were some crazy formatting issues. The word "pleasure," used repeatedly, yet (almost) always spelled out as plea sure. Was it deliberate or a formatting goof? Other words oddly split were im port ant, Ca rib bean, and a couple others, so I am thinking it was a formatting accident, not an author affectation, but every time I hit one (every screen or three) it stopped me dead in my tracks. Kind of like it bugged Nia to have her ex keep texting her with "your <sic> always on my mind" messages.
There were repetition of phrases, like "identical sins" that were striking the first time, a nice callback the second time, still somewhat cute the third time, but with continued use, simply annoying. I hope I never see a reference to a woman's "chocolate star" again. I did like the tie-in to Anais Nin, another sensualist on a journey of discovery, but while I have always been able to relate to Anais, I could not relate to Nia.
It was
much
too long (476 pages). There really wasn't a plot, or any sense that Nia, the main character, learned, changed, or grew during the course of it. She just had lots of (unsafe) sex with men (and women) who were emotionally and/or legally unavailable to be with her, not that she seemed to
want
a permanent partner anyway. The complication of Mark's wife Jewell, a television personality, seemed unnecessary, and what really ticked me off is there is a scene near the end, where the reader is led to believe it involves one brother, but actually involves the other, so there's a ta-da! moment. In rereading it, it is clearly contrived; somebody's "calling out his name," so Nia, the narrator, knows who it is, but it's withheld from the reader. There's a fine line to play that kind of trick on the reader/viewer and have it still be satisfying, a la The Sixth Sense; in this case, I just felt
played
.
I will read more of this author's work in the future. Based on the other reviews I have read from his fans who were deeply disappointed in this offering; he has done much better than this. It's worth a look to see how male writers imagine sex from a female POV, but if you're looking for something deep as well as sexy, this ain't it.
Giving Up th
e Dream
- J.L. Campbell
Ms. Campbell is another writer out of the West Indies, Jamaica in this case, and I needed her to wash the taste of Plea sure out of my mouth. I have so enjoyed her short pieces in the
Romantic Friday Writers
group, and this was no exception, BUT it is just a short story (29 pages, plus excerpts from other works). So if you are looking for more of her work, and the story of Justine and Xavier, you will have to give up the dollars to get
Distraction
. Or read her other books
Dissolution
or
Contraband
.
Picture Perfect
- Jodi Picoult
This book hit me very deeply; I was
not
expecting the theme of domestic violence. I will review in depth in October. Note: If you have a story of domestic violence - whether you have experienced it in your family of origin, a relationship, or with a friend or co-worker - would love to have you guest post here in October. Please leave a comment or e-mail me.
Left on my TBR list from December:
Les Miserables - V
ictor Hugo (I'm up to 72%, lol!)
Daisy Miller
- Henry James
Falling Leaves - Adeline Yen Mah
Picture Perfect - Jodi Picoult
Giving Up the Dream - J.L. Campbell
Automagically - Sommer Marsden
Little Black Dress - Susan McBride
Madame Bovary
- Gustave Flaubert
Confessions of an Improper Bride
- Jennifer Haymore
Added to my TBR list, already on my Kindle or bookshelf:
Pleasure - Eric Jerome Dickey
The Darkest Surrender - Gena Showalter
A Heart to Mend
- Myne Whitman
The Doctor's Lady
- Jody Hedlund
Dev Dreams
- Ruth Madison
My Cheeky Angel
- Mimi Barbour
Katie's Hellion
- Lizzy Ford
The Inner Game of Stress
- W. Timothy Gallwey
Romance Novel
- PJ Jones
Living in Gratitude
- Angeles Arrien
Bossypants
- Tina Fey
Train Your Mind, Change Your Life
- Sharon Begley
Water
- Terra Harmony
The Cowboy's Pride
- Charlene Sands
The Bird Sisters
- Rebecca Rasmussen
Mercury Rising
- Daisy Harris
The Brenda Diaries
- Margo Candela
Hollywood Ending
- Lucie Simone
Are You There, Vodka? It's Me, Chelsea
- Chelsea Handler
Devil's Kiss - Zoe Archer
Melt
- Natalie Anderson
Inside Heat - Roz Lee
Beauty and the Werewolf (A Tale of the Five Hundred Kingdoms)
- Mercedes Lackey
Marriage Made on Paper - Maisey Yates
Beloved
- Toni Morrison
The Awakening
- Kate Chopin
His Strength
- Kiru Taye
Just The Way You Are
- Barbara Freethy
Bloodchild and Other Stories
- Octavia E. Butler
Hunchback of Notre Dame
- Victor Hugo
Just Like That
- Margo Candela
Twelve Times Blessed
- Jacqueline Mitchard
The Lantern
- Deborah Lawrenson
Danger Zone
- Dee J. Adams
The Possibility of You
- Pamela Redmond
Daughter of Fortune
- Isabel Allende
Alpha Wolf
- Linda O. Johnston
Asphodel (The Underworld Trilogy)
- Lauren Hammond
Unbroken
- Laura Hillenbrand
Witches of East End
- Melissa de la Cruz
The Comic Toolbox
- John Vorhaus
A Week to Be Wicked
- Tessa Dare
The Belly Dancer
- DeAnna Cameron
Caught in the Act
- Jill Sorenson
Fifty Shades of Grey
- E.L. James
Elizabeth I
- Margaret George
How to Knit A Wild Bikini
- Christie Ridgway
Somewhere in Time
- Richard Matheson
Flirt
- Laurell K. Hamilton
Fired Up
- Jayne Ann Krentz
Fragrance of Violets
- Paula Martin
Can't Buy Me Love
- Maggie Marr
Colters' Wife
- Maya Banks
The Jungle
- Upton Sinclair
Heart of Darkness
- Joseph Conrad
The Prince
- Niccolo Machiavelli
Common Sense
- Thomas Paine
Lady Susan
- Jane Austen
and yes, there's more I need to add here. <insert chagrined face>
The details and sign-up are at Vicky's blog,
Books Biscuits and Tea
.
Are there any books you're moved off your TBR pile so far this year?
Have you read any of the books I read?
What did you think?